Our Dental Team is well versed in all areas of modern dentistry. We are committed to providing a full range of general and cosmetic dental options to help you achieve a cleaner, healthier, and more attractive smile.
If you need to or want to look better, and feel better, we will help you by sharing our knowledge about current procedures using surgical and restorative implants, veneers, tooth whitening, invisalign, periodontal therapy, and many other preventive and cosmetic restorations, as well as the option of using nitrous oxide or I.V. conscious sedation during your treatment. If needed, we will use our intraoral camera to educate you. Then we will work with you to help select the form of treatment that will restore your oral health, and discuss the responsibilities you have for the daily care of your teeth.
Financial Arrangements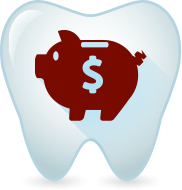 In order to provide the highest quality care on a sound basis, we have developed convenient payment options for you to choose from. Prior to the commencement of treatment, fees and financial arrangements will be discussed with you. These arrangements can be coordinated with your dental insurance benefits.


We also accept
MasterCard, Visa, American Express, CareCredit and Discovery.